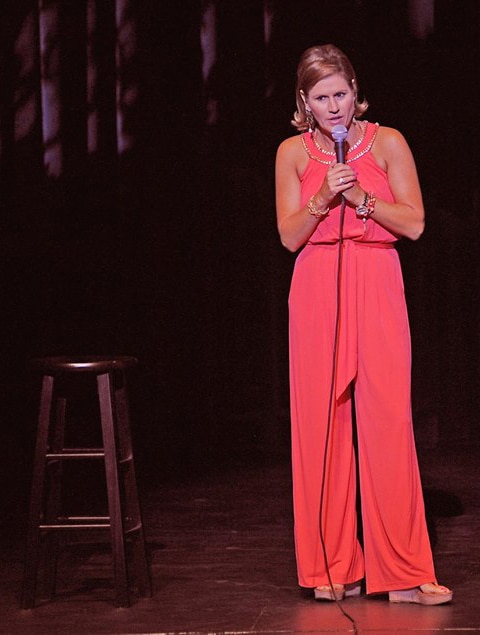 Comic Kerri Louise has just appeared on a new Showtime Comedy Special Called "Funny Women of a Certain Age", steaming now.
She's been on Oprah, Dr. Oz, and The Howard Stern Show. Kerri Louise was a finalist on NBC's Last Comic Standing and starred in her own reality TV show called "Two Funny", on The WE Network. Kerri has been featured on Comedy Central, VH1, and TrueTV countless times. She's been on numerous TV talk shows, podcasts, and she's a regular on Sirius XM radio. You've seen her high heels on stages like The Apprentice, Americas Got Talent, Comics Unleashed, Gotham Live, and she was the warm-up for The View. Kerri Louise can be seen at the top comedy clubs and festivals nationwide.
She lives in New York with her comedian husband, Tom Cotter, and their three sons. Being in a household full of testosterone, Kerri needed an escape, which is why she started her Webisode, "My Mommy Minute". It has become very popular on Youtube for almost a decade. That audience has inspired, Kerri to write "Mean Mommy", a funny "How To" mom book and a children's book entitled "Harry the Elephant has an Allergy", both on sale now on Amazon. This two-time author, hilarious comic, and mother of three (4 if you count her husband) can be found performing all over the country.
Check out Kerri's funny clips with over 2 million views & her "Trending Sound" @kerrilouisecomedy on all social platforms.